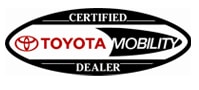 What is Toyota Mobility?

Toyota Mobility is a program designed to address the transportation needs of Toyota owners who have a disability or who have a family member with a disability or mobility issue. The program provides cash assistance of up to $1,000 of the cost of adaptive equipment, comprehensive mobility resource information, and it offers flexible, extended-term financing of up to 96 months for the vehicle and the adaptive equipment.


A Certified Toyota Mobility Dealer is one that has made a special commitment to serve customers with mobility issues and special needs.

This commitment includes:

A partnership with a mobility equipment dealer who is a specialist at understanding mobility issues and the appropriate adaptive equipment available to meet the transportation needs of persons with a disability.

A trained Mobility Champion sales manager at the Certified Toyota Mobility dealership who will work with their mobility equipment dealer partner to supply the correct transportation solution.

The display of some Toyota models with adaptive equipment at the Certified Toyota Mobility dealership.

The provision of extended term mobility financing from Toyota Financial Services for purchases of both a new vehicle and the adaptive equipment required.
Contact Mitchell Borbidge, Lawrence Toyota Mobility Champion, at 1-800-406-9182 ext 128 for more information...
Refer to the Toyota Mobility Assistance Reimbursement Application Form for complete details.